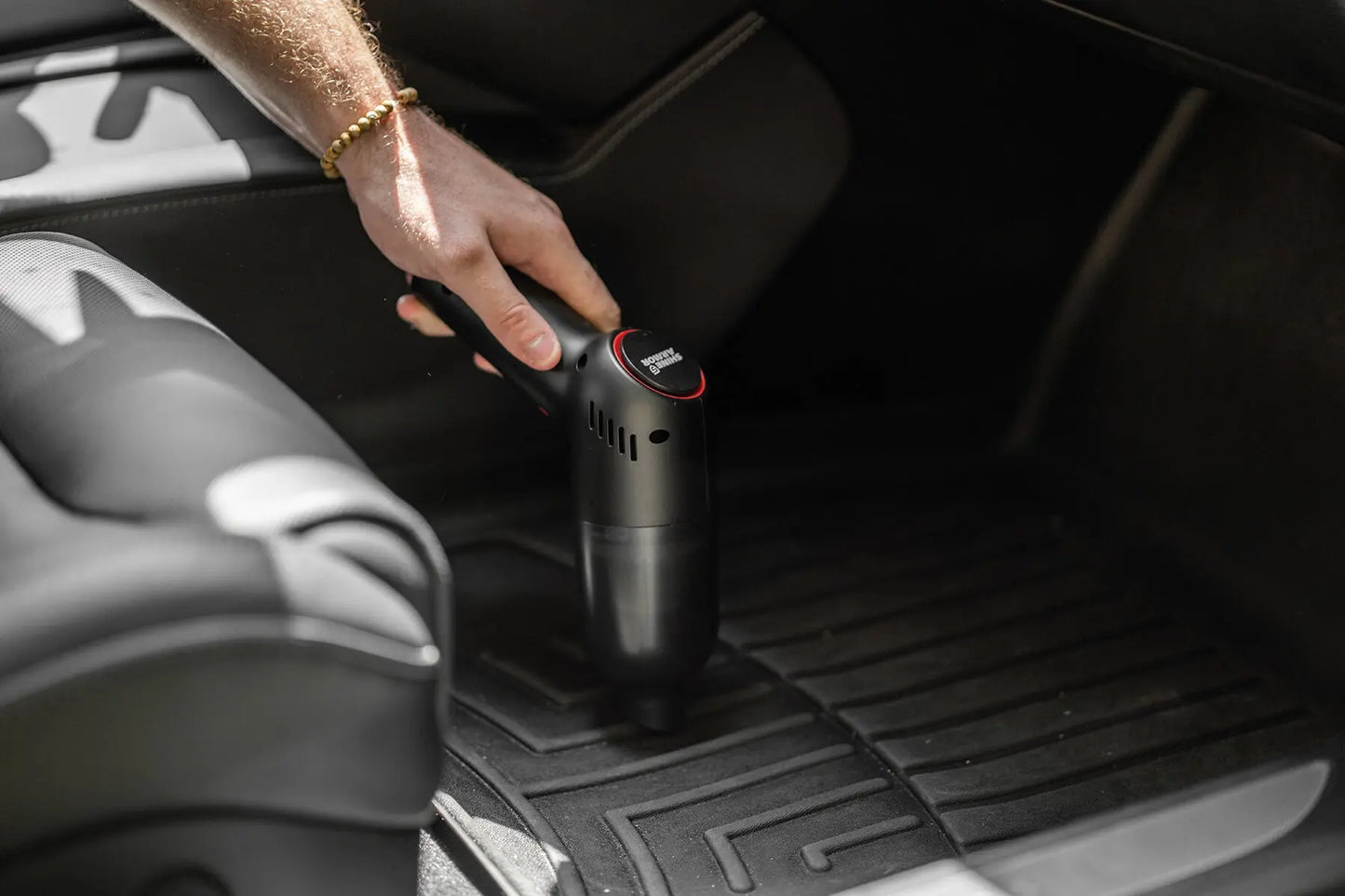 Pet hair in your car interior can be a huge pain, but with the right vacuum, it's easy to tackle! read this informational article from shine armor blog.
Before you start shopping, consider what you need most. Here are a few things to consider:
If you want to be able to vacuum your car wherever you are, you'll want a portable vacuum that doesn't require an outlet. However there can be a bit more expensive, and often are less powerful than corded vacuums.
If you plan to use your vacuum at home, ensure that you get one with a cord long enough to reach an outlet in your garage or home.
If your pet's hair likes to cling to fabric, you'll need a vacuum that has more powerful suction.
While you can technically use any vacuum in a car, having one that is easy to handle and maneuver can save you a lot of frustration.
The right vacuum attachment can make even the most tedious vacuum tasks easy and quick. Look for a vacuum that has attachments for small spaces, for pulling up pet hair, and for focusing suction power.
There are great vacuums within any price range, but the expensive one's seem to rise tot he surface first. Set a price window that you're comfortable with before starting your search.
 you can see these car wash related products in shine armor:
Whether you're looking for the best cordless car vacuum for pet hair, the best corded car vacuum, the best vacuum for car detailing, or just the best handheld vacuum for pet hair, we've done the research for you. Read on to see options that fit your needs.
For starters, the Dyson V11 Absolute Cordless Vacuum is one of the best cordless options for removing pet hair from car interiors. It's powerful, versatile, and comes with a HEPA filtration system. One drawback is charging time, which is usually about 3.5 hours to full power.
Pros:
Good run time between charges

Great suction

Easy to clean out
Cons:
Expensive - about $630

Heavy when used as a handheld vacuum
If you're looking for a corded option, the Shark Rocket Corded Hand Vac is a great choice. It's lightweight, easy to maneuver, and comes with a tool specifically for removing pets. Additionally, it's highly rated on Reddit as the best corded car vacuum.
Pros:
Good suction

Affordable - about $70

Easy to use as a hand held

Great attachments for pet hair
Cons:
If you're looking for a handheld option, the Bissell AutoMate Lithium Ion Cordless Handheld Car Vacuum is a great choice. This cordless vacuum is powerful, lightweight, and comes with tools and brush attachments for removing pet hair from every nook and cranny. 
Pros:
Cordless

Decent suction

Small and lightweight

Mid priced - about $100
Cons:
Shorter battery life

Slow to charge
Another option is the Black+Decker Flex Car Vacuum. With a flexible hose and crevice tool, it's designed to reach every tight space in your car. It also has a HEPA filtration system and washable bowl and filter, making maintenance easy.
Pros: 
Great for small spaces

Cordless

Affordable - about $70
Cons:
Needs to be charged before use
Finally, the Dirt Devil Scorpion Quick Flip Corded Bagless Handheld Vacuum is an affordable option that doesn't skimp on power. Although you might need an extension cord depending on how far away your car is to an outlet, this vacuum has powerful suction and a crevice tool, and might be the best handheld vacuum for pet hair.
Pros:
Lightweight

Great suction

Affordable - about $30
Cons:
Cord limits mobility

Loud
When choosing a vacuum, think about factors such as suction power, ease of use, and versatility. With the right vacuum, keeping your car interiors free of pet hair will be a breeze!