Best 5 Ceramic Car Coatings Products That Are Putting Professional Detailers Out Of Business

---
Published by Mark Peter on September 02, 2019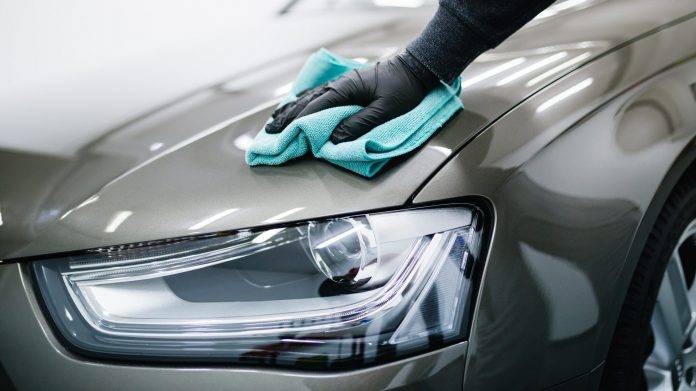 Giving your car a weekly wash using expensive and fancy looking car shampoo isn't a bad choice for starters if you're trying to preserve or even revive the showroom look of your pride and joy. However, there are plenty of other products on the market that'll deliver far more than just move the dirt and dust around the way those shampoos do.
What are we implying by "moving around"? Exactly that.
You may not know this, but most products out there won't remove dirt, dust, and stains properly, at best they will only push that nasty stuff away, leaving some particles behind that may damage the surface of your car.
The thing is, if you're really serious about keeping up the appearance of your car, then you'll want to not only give it a deep clean from time to time but also apply a protective coating to it.
To effectively provide a protective layer, there's nothing like DIY Nano-Ceramic Coating Technology that will keep both the paint and the surface preserved at their best, dissolving dirt and dust, instead of just moving them away.
WHAT IS A CERAMIC COATING? It's a liquid polymer that is applied to the exterior surface of a vehicle. After application, it chemically bonds with the vehicle's factory paint pore by pore, establishing a layer of protection and a hydrophobic surface.
The hydrophobic properties of a Ceramic Coating make it harder for contaminants to stay on a car's paint. This has two main benefits for the car owner:
The car remains cleaner for much longer.

It's easier to clean when washing it.
Ceramic Coatings also help prevent the risk of certain kinds of damage, like:
Chemical stains,

Marks caused by minor accidental scratches,

Oxidation (fading) from UV exposure.
Now you may wonder, how are paint protection films and ceramic coatings different.
As you can see, both products serve the purpose of keeping your car looking newer for longer by protecting and preserving your car's paint.
The major difference lies in the dual function some ceramic coatings have, which is both allowing an effective and much easier cleaning, and a very effective protection, while paint protection products only focus on the protective layer they create.
Today we'll review the 5 most effective ceramic coatings and, of course, the best one in terms of quality in results and cost-effectiveness for your DIY detailing needs.
Check it out for yourself!
Nasiol Nanocoating is a rain repellent spray for safe driving in rainy conditions that claims to deliver 2 years effective nano coating. Focusing mainly on the car's windscreen and mirror with easy clean and stain-free effects, but also being able to protect the whole car's surface.
It's well-known for effectively coating cars against stains and water damage, being its major focus to ensure safe driving.
Nasiol's best qualities are:
Decent shine that lasts for weeks that can be preserved with maintenance.

Absolute hydrophobic surface for at least half a year.

Great visibility and brand-new looks on cars windows.
You and your passengers are safe when it comes to visibility in less-than-ideal driving conditions. Its Clear Vision effect is observed at 40 km/h speed in bad weather.
In conclusion, it's a fairly good product with an average price.
This product aims to satisfy annoyed car owners who are annoyed about the paint on their cars getting pale with time.
Color N Drive DIY ceramic paint protection helps prevent scratches and dirt which makes your car seem old and aged.
It's easy to use and after full application, it leaves a protective layer and hydrophobic properties on the surface of your car, as well as greatly bringing out the shiny look you're looking for.
The problem with this product, according to some users, is the price compared to that of a local car detailing service. So if you don't have a problem with this, it may be the product for you, since you get:
Car paint protection from bird drops, scratches, stone chips, iron powder, and UV.

Decent gloss shine on the whole surface.

Effective hydrophobic properties.

Good for two cars, also can be applied to motorcycles.
Ceramic Pro 9H is a strong product that forms a permanent bond with the surface and doesn't wash off or break down.
It claims to be a highly durable protective coating only removable by abrasion, which means it will protect the paintwork from damaging contaminants.
It's suggested to be applied in multiple layers which means the thickness of the coating can be increased with additional layers allowing a thicker/harder coating with improved scratch resistance.
Unfortunately, some customers claim to have suffered paint damage after long-usage due to its dense consistency, allegedly deteriorating the paint from its pores. It still made the cut because of the lack of evidence and its popularity.
Ceramic Pro 9h provides:
Scratch resistance protection.

Decent hydrophobic effect.

Weather & UV resistance.

Advanced chemical resistance.

Oxidation resistance.

Great gloss finish.
Armor Shield IX is a product meant to protect against light scratches, those annoying bird droppings, and contaminants.
It forms a protective layer over the paintwork that can last 3 years with occasional maintenance.
It claims to be the ultimate paintwork guardian against everything nasty; dirt, grime, bird poo, you name it. Also delivering a potent shine, suggesting only a monthly retouch.
Forget about UV ray risk, weather erosion, acid rain, and tree gum, this product gets you covered.
Even while being a great product, unfortunately, it is pricey, which makes it a good, but questionable choice for your detailing needs.
With Armor Shield IX you get:
Great hydrophobic protection.

Decent UV ray resistance.

Excellent glossy finish.

Effective scratch resistance.

One bottle is good enough for a long lasting for protection.

Oxidation resistance approved.
Naturally, we saved the best for last. What does it make it the best? Balance.
It delivers what the rest of these products promise in a cost-friendly, long-lasting and most effective way, being also the easiest to apply. Well, let's get into it.
People are increasingly moving to Shine Armor Fortify Quick Coat as soon as they get to see how this game changer improves their car detailing experience.
Once you go Shine, there's no going back!
And I'm sure that soon you'll join the complete DIY experience this product delivers…
FORTIFY QUICK COAT will single-handedly do everything your local car detailer doesn't and much more… without paying a fortune in the process.
It's very simple and easy to apply while it seals, protects, cleans, and delivers a waterless nano ceramic experience.
Also…
One single application lasts longer than most nano ceramic coating products in the market (2 years at least)!
No absurd promises of products to last a whole lifetime.
The powerful Si02 technology contained in this product provides a waterless ceramic solution to lift and dissolve the dirt and dust from your car entirely with its powerful surfactants, as well as sealing and protecting your car's surface. Rain, sun or lack of shade will no longer be excuses for not having your car looking its best.
Fortify Quick Coat provides:
The FULL benefits from Si02 technology.
A waterless car wash.
A superior paint sealant.
A silica maintenance spray.
Ceramic coating at its best.
An eco-friendly and cost-effective solution.
One bottle, one product and huge savings for you in terms of time and money.