One

Million+ Satisfied

Customers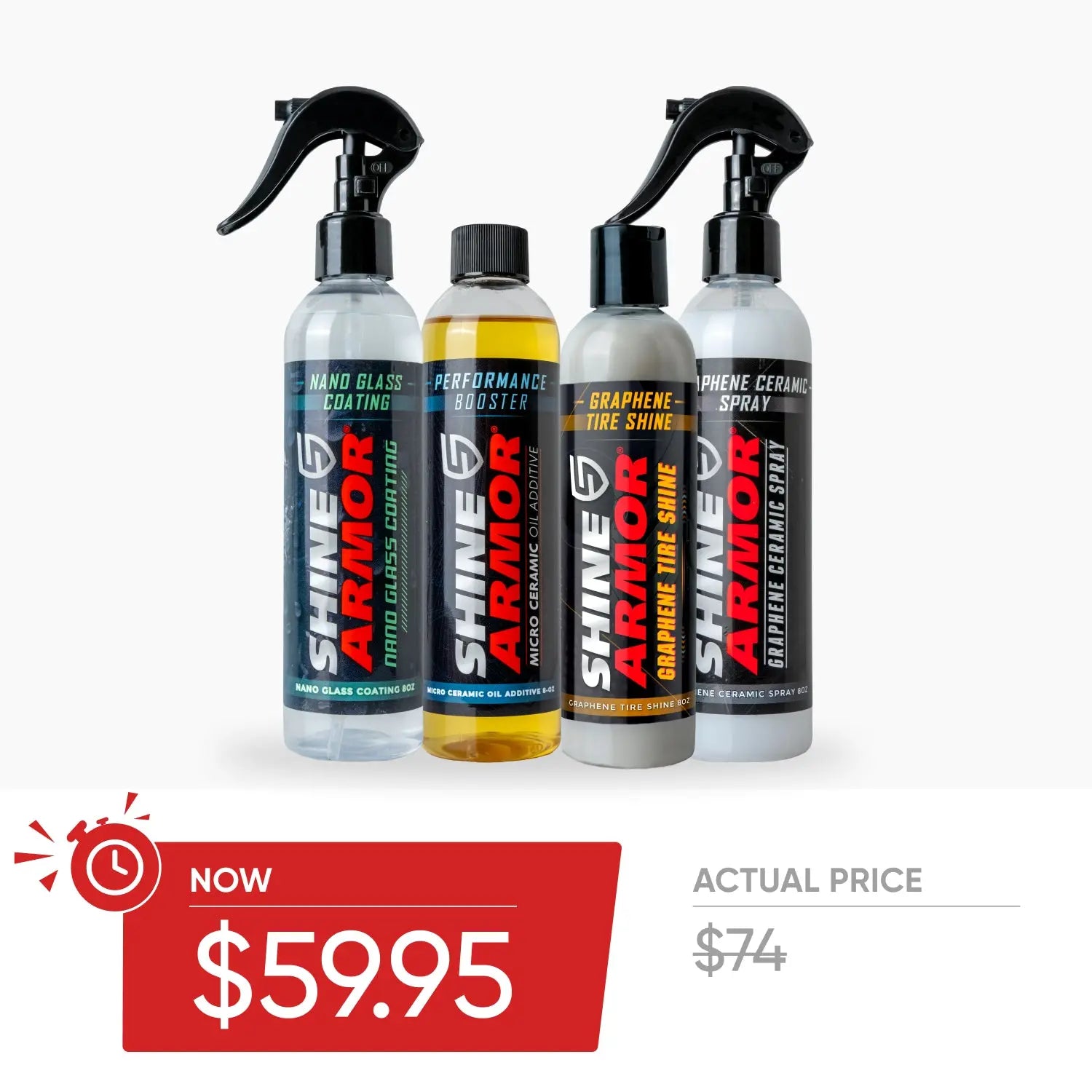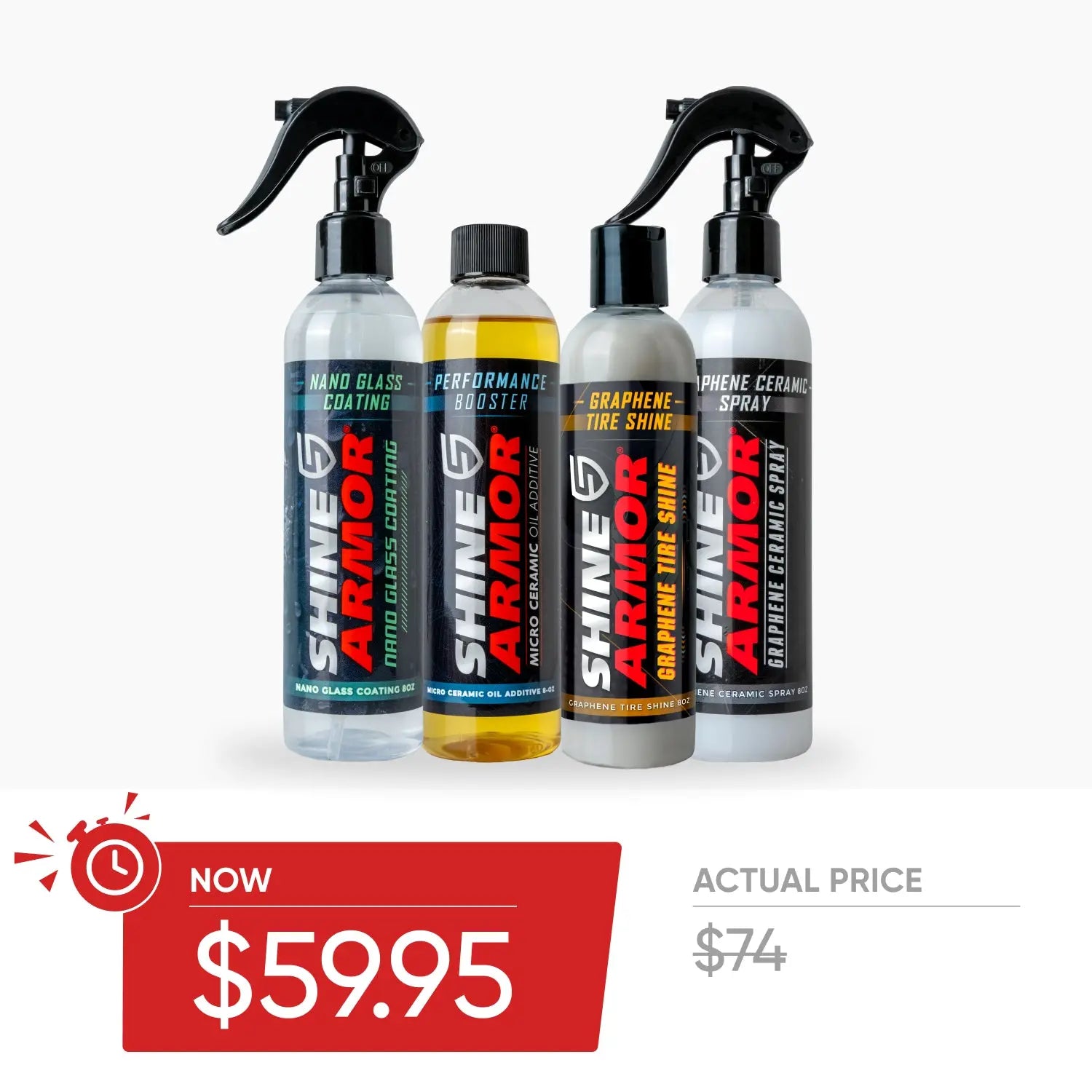 Quantity
USE IT WITH
People also Buy
One

Million+ Satisfied

Customers
Ready for the Trip Bundle Kit
Product Description:
Get ready to hit the road with Shine Armor's "Ready for the Trip Bundle Kit." This comprehensive kit is specially designed to ensure your car is in its prime condition, both inside and out, as you embark on your next adventure. Packed with powerful products, this bundle offers an all-encompassing solution for car detailing, making sure your vehicle shines and performs at its best, no matter the journey ahead.
Key Features: Unveiling the Power of the Bundle
This cutting-edge spray combines graphene technology with ceramic protection to deliver a stunning, long-lasting shine. Guard your car's exterior against UV rays, contaminants, and weather elements while adding depth and gloss to the paint.
Performance Booster Oil Additive:
Elevate your car's performance with this oil additive. Engineered to reduce friction and wear, it enhances engine efficiency, optimizes fuel consumption, and helps extend the life of your vehicle's engine.
Graphene Tire Shine:
Your tires deserve the best, and this graphene-infused formula ensures they get it. Achieve a sleek, jet-black finish that not only looks impressive but also provides protection against harmful elements and cracking.
Graphene Ceramic Nano Glass Coating: 
Crystal-clear vision is essential during your travels. This nano glass coating enhances visibility by repelling water, dirt, and debris from your windshield. Rain or shine, enjoy a clearer view of the road ahead.

How to Use: Simple Steps to Shine and Protect
Shine Armor Graphene Ceramic Spray:

Ensure your car is clean and dry.
Spray a small amount onto the included microfiber cloth.
Gently apply to the surface, one section at a time.
Buff with a clean, dry microfiber towel to reveal a dazzling shine.

Performance Booster Oil Additive:

Add the recommended amount of the additive to your engine oil.
For optimal mixing, idle the engine for a few minutes.
Experience smoother performance and enhanced engine life.

Graphene Tire Shine:

Clean your tires thoroughly.
Apply a small amount to an applicator pad.
Spread evenly across the tire surface.
Let it sit for a few minutes and wipe off any excess.

Graphene Ceramic Nano Glass Coating:

Ensure your windshield is clean and dry.
Apply a few drops of the coating onto an applicator pad.
Gently spread the product across the glass in a circular motion.
Buff the glass using a clean microfiber cloth for a streak-free finish.
Benefits: Elevating Your Car Care Experience
Comprehensive Protection: From the exterior to the interior, this bundle has you covered, ensuring every part of your vehicle gets the attention it deserves.
Enhanced Aesthetics: Achieve a head-turning shine and a polished look that showcases your vehicle's true potential.
Long-Lasting Performance: The advanced formulas in this bundle offer durability, so your car stays protected and stunning on your travels.
Engine Optimization: The oil additive not only enhances performance but also helps maintain your engine's health for the long haul.
Visibility and Safety: With the nano glass coating, enjoy improved visibility even during adverse weather conditions.
In Conclusion:
A Journey Awaits, Embrace it with Shine Armor's Ready for the Trip Bundle Kit
As you gear up for your next adventure, ensure your vehicle is prepared for the road ahead. Shine Armor's "Ready for the Trip Bundle Kit" equips you with the tools to maintain a stunning exterior, optimize engine performance, and enhance safety. Elevate your car care routine with this all-in-one solution, and let your vehicle shine as it takes you on unforgettable journeys. With its top-quality products and unmatched performance, this bundle ensures your car is ready to make every mile count.