One

Million+ Satisfied

Customers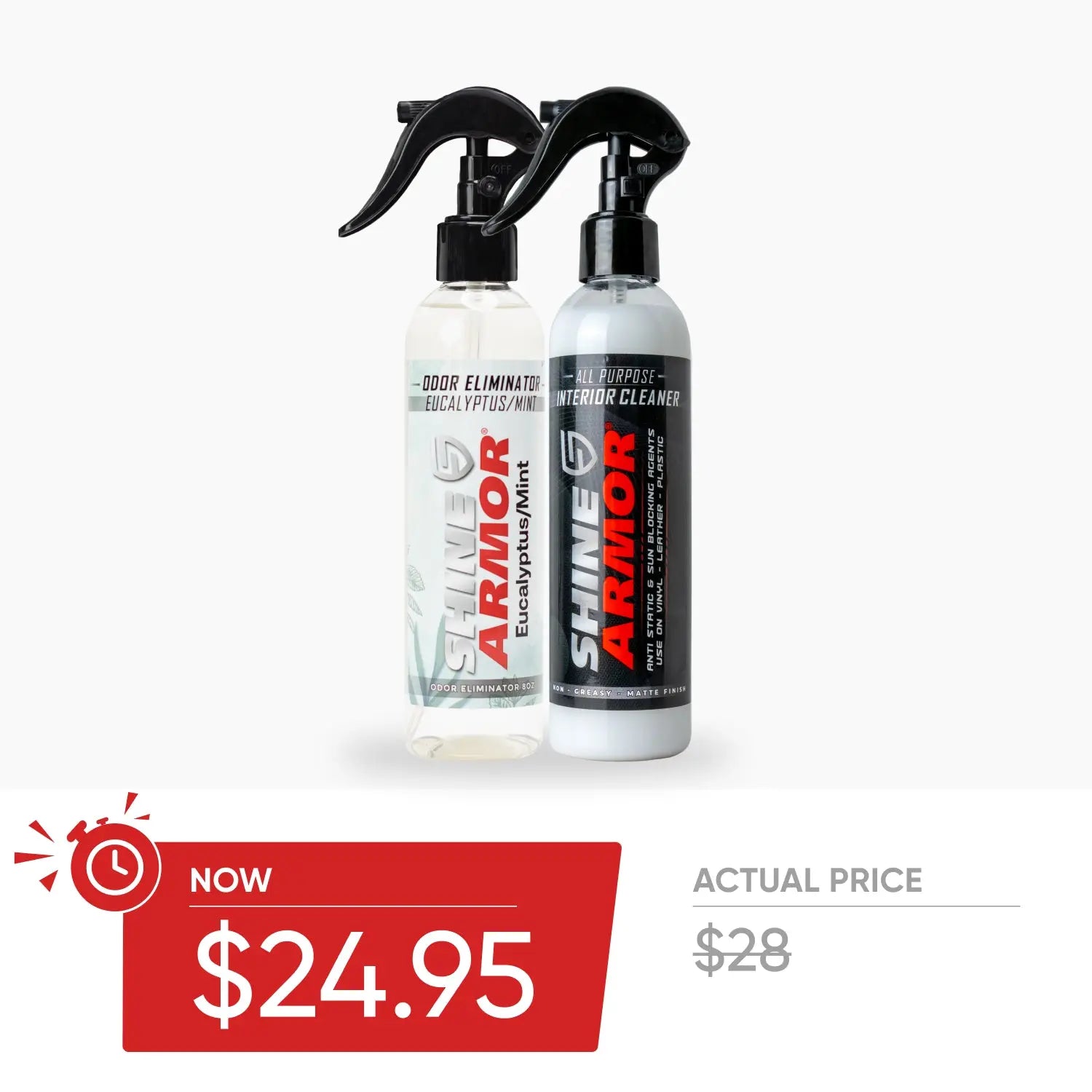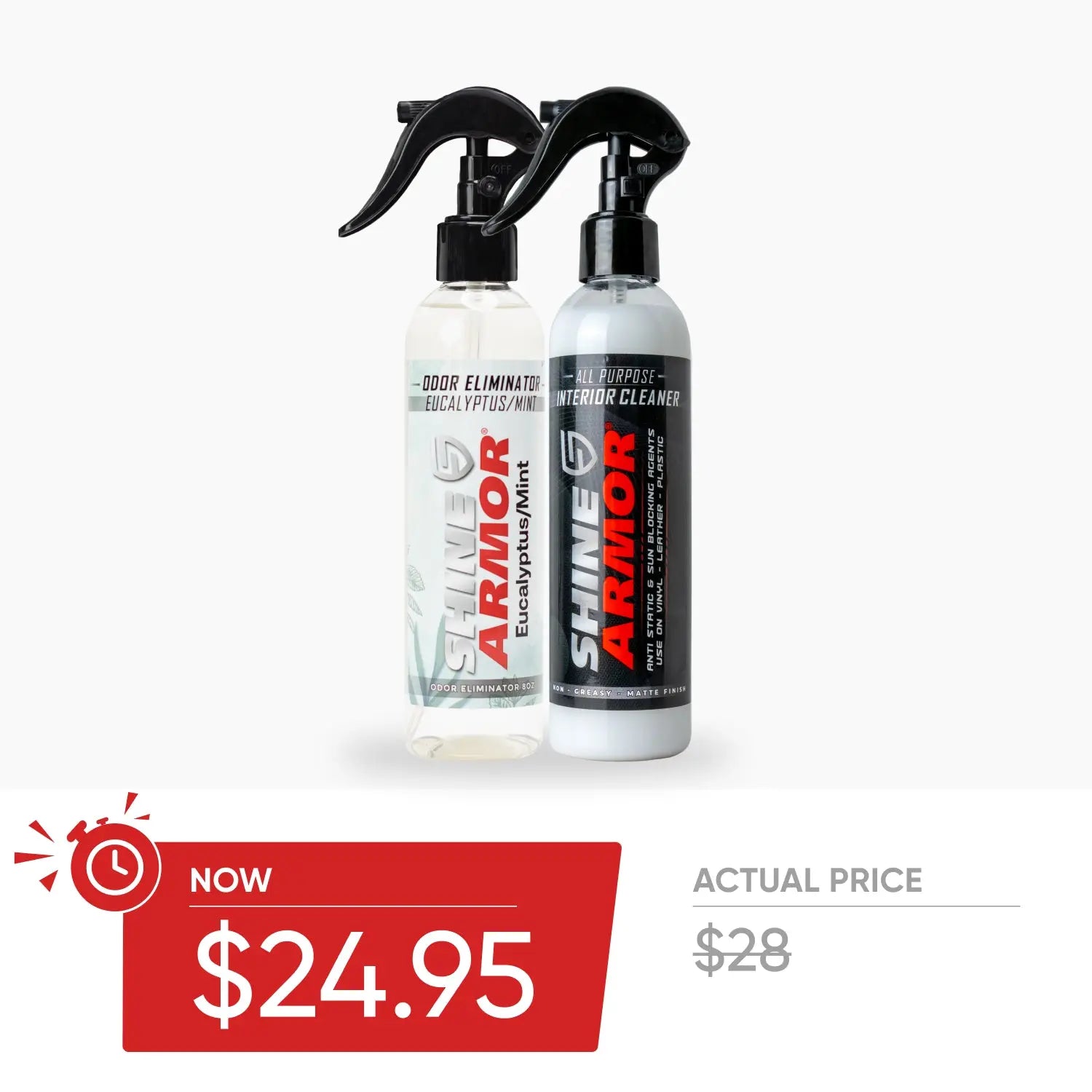 Quantity
USE IT WITH
People also Buy
One

Million+ Satisfied

Customers
Shine Armor Quick Interior Cleaning Bundle Kit: Revitalize Your Car's Interior Aesthetics
Product Description:
Elevate your car's interior to new heights of cleanliness and allure with the Shine Armor Quick Interior Cleaning Bundle Kit. This all-inclusive kit is meticulously designed to offer you a comprehensive solution for maintaining the interior of your vehicle. Whether you're a devoted car enthusiast or someone who takes pride in a well-kept cabin, this bundle is tailored to meet your interior car detailing needs.
Key Features of Interior Cleaning Bundle
Kit
:
Multi Purpose Interior Cleaner: 
The bundle includes a powerful and versatile interior cleaner that's formulated to tackle a range of surfaces, from upholstery to plastic components. Leave no spot untouched as you restore your interior's luster.
Odor Eliminator: 
Say farewell to unpleasant odors and create a refreshing ambiance within your car with the included eucalyptus mint-scented odor eliminator. Enjoy long-lasting freshness that accompanies you on every ride.
Stain Removal Power: 
The interior cleaner is engineered to eliminate stubborn stains, spills, and residues that accumulate over time. Rediscover the original beauty of your upholstery and surfaces.
UV Protection: 
Safeguard your interior from the harsh effects of the sun with the UV protection properties of the interior cleaner. Prevent fading, cracking, and deterioration caused by UV rays.
Non-Greasy Finish: Achieve a clean and non-greasy finish that doesn't compromise your interior's elegance. Say goodbye to sticky residues and welcome a polished appearance.
How to Use:
Multi Purpose Interior Cleaner:
Shake the bottle well before use.

Spray the cleaner evenly onto the surface to be cleaned.

Gently scrub the area with a soft brush or microfiber cloth.

Wipe away excess product and dirt with a clean, dry cloth.
Odor Eliminator:
Shake the bottle before use.

Spray the odor eliminator in the desired areas, such as seats, carpets, and floor mats.

Allow the product to dry, leaving behind a refreshing eucalyptus mint scent.
Benefits of this kit:
Impeccable Interior:
 Restore the charm of your car's interior with a deep and thorough cleaning that removes stains, dirt, and odors.
Enhanced Driving Experience:
 A clean and fresh interior elevates your driving experience, making every journey more enjoyable.
UV Protection:
 Shield your interior from sun-induced damage, extending the lifespan of your upholstery and plastic components.
Long-lasting Freshness: 
The eucalyptus mint-scented odor eliminator ensures a rejuvenating and lasting fragrance.
Convenience: 
With a multipurpose interior cleaner and an odor eliminator in one bundle, you have all the tools you need for a complete interior transformation.
Elevate Your Interior with Shine Armor:
The Shine Armor Quick Interior Cleaning Bundle Kit brings professional-grade interior detailing to your fingertips. Unveil the true potential of your car's interior with a revitalizing cleaning experience that enhances aesthetics and comfort. From removing stains to providing UV protection and a refreshing scent, this bundle is the ultimate solution for a pristine and inviting cabin. Elevate your driving journey and take pride in a car interior that's as remarkable as its exterior. Shine Armor sets the stage for a driving experience like no other, where every detail matters.