One

Million+ Satisfied

Customers
Quantity
USE IT WITH
People also Buy
One

Million+ Satisfied

Customers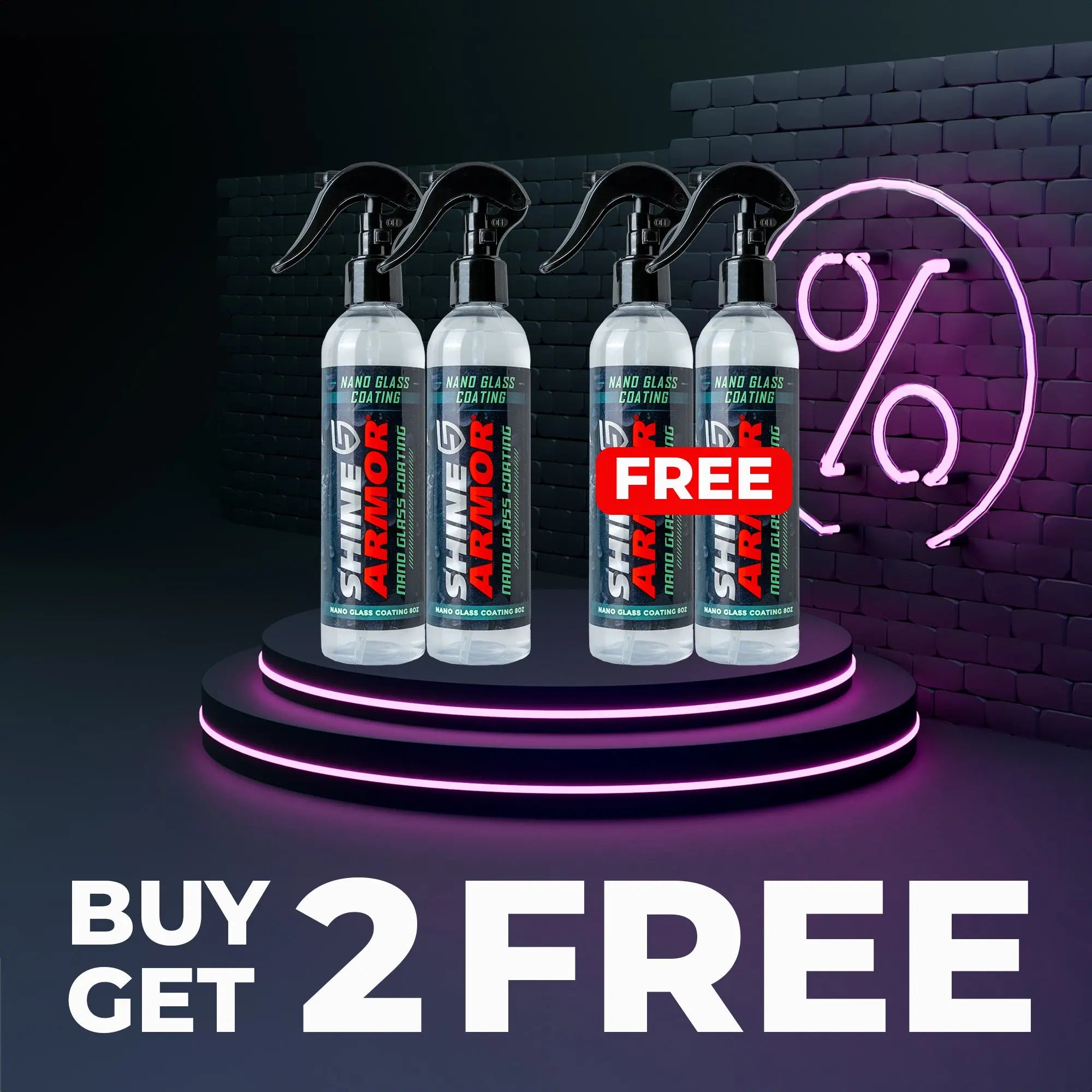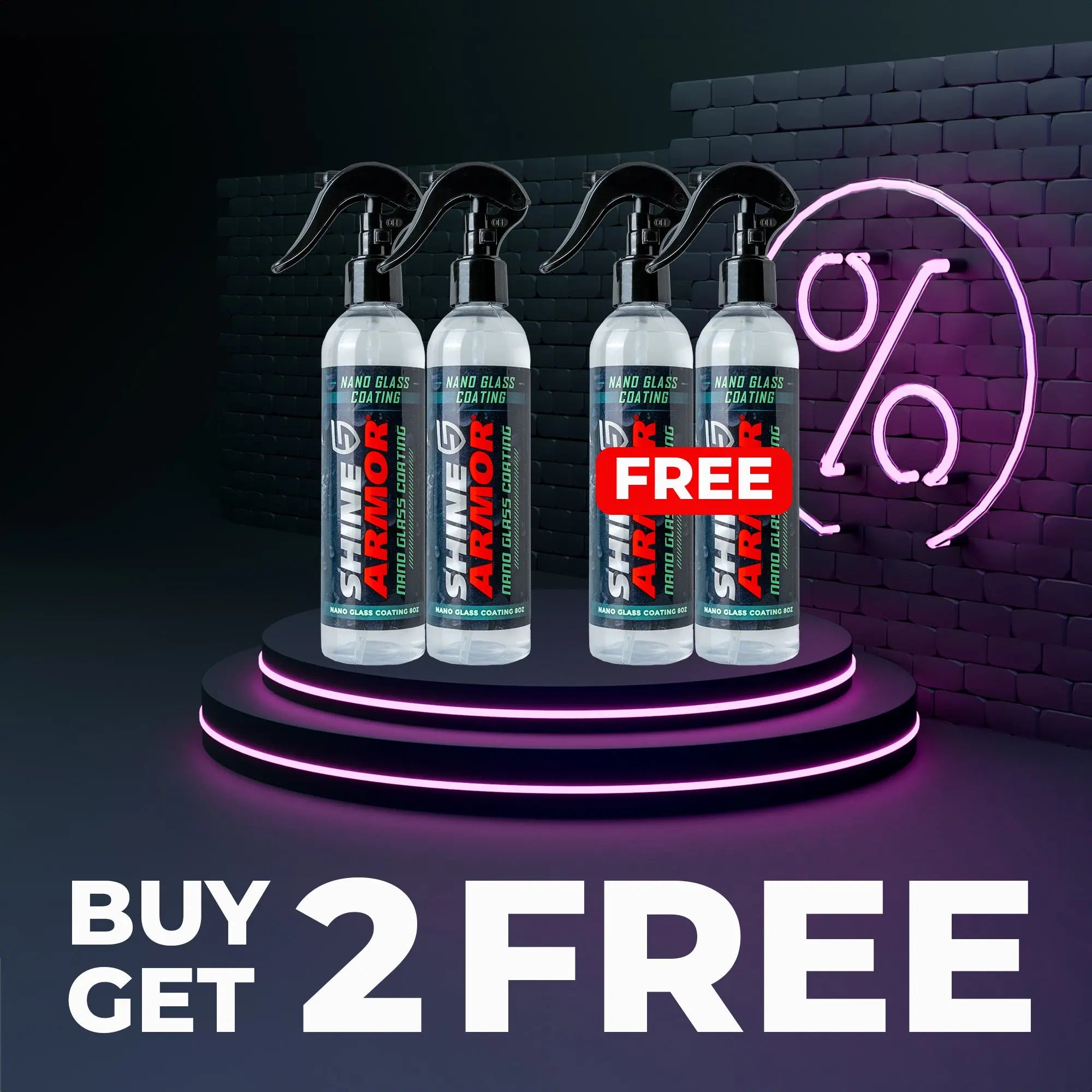 Quantity
USE IT WITH
People also Buy
One

Million+ Satisfied

Customers
Introduction to Nano Glass Coating:
Say Goodbye to Dirty, Hard-to-Clean Car Windows!
Imagine a world where dirt and dust effortlessly slide off your windows. Picture crystal clear windshields that not only enhance the appearance of your car but also make your driving experience safer and more enjoyable. No more endless scrubbing or dealing with stubborn stains. Shine Armor Nano Glass Coating is here to make that dream a reality.
Product Overview:
Perfect for Car Owners Seeking Window Protection and Enhancement
Car windows are constantly exposed to road grime, environmental contaminants, and harsh weather conditions. These elements not only diminish the appearance of your car but also make your windows difficult to clean. 
The Shine Armor Nano Glass Coating is designed for all car owners who want to enhance the appearance and maintain the cleanliness of their vehicle's windows. Whether you own a sports car, a luxury sedan, or an everyday commuter, this product can meet your needs. Say goodbye to the frustration of spending hours scrubbing and polishing your car windows, only to be left with unsatisfactory results. It's time to experience the joy of pristine, streak-free car windows that last.
Cutting Edge Technology
The multifunctional, ultra-thin, super-hydrophobic coating reduces dirt and dust accumulation. They simply slip off with the motion of the car. The Shine Armor Nano Glass coating creates a scratch-resistant, easy to clean surface.
Incredibly Easy To Apply
Shine Armor Nano Glass coating protects the glass from erosion, and from stubborn salt spray staining and mineral deposits. This is a proven and reliable coating that can handle harsh conditions and extreme temperatures.
Long Lasting Durability and Protection
This glass window coating can be used on cars, trucks, boats, planes, shower doors, windows, mirrors and any other glass surface. It only bonds with clean glass, so it is very important to prep the glass very well beforehand.
Transform the Way You Care for Your Car Windows with Shine Armor Nano Glass Coating
Shine Armor Nano Glass Coating is a game-changer that will revolutionize the way you care for your car windows. With its innovative formula and exceptional features, this product stands out from the competition, delivering outstanding results and unmatched protection.
The Nano Glass Coating is specially formulated to protect your vehicle's glass surfaces, keeping them free from deterioration and maintaining their pristine condition for 6-12 months.
This advanced formula creates an ultra-thin, super-hydrophobic layer that repels dirt, water, and other contaminants ensuring water effortlessly rolls off, leaving your windows free from streaks and water spots. This protective barrier safeguards your car windows from scratches and damage caused by everyday use. 
Benefits of Nano Glass Coating
Long-Lasting Protection: Enjoy reliable protection that lasts for 6-12 months.
Enhanced Visibility, Safety & Comfort: Elevate your driving experience with streak-free, spotless windows for improved visibility, safety, and comfort.
Scratch-Resistant and Durable: Enjoy peace of mind with a scratch-resistant and durable coating that safeguards against scratches and damage.
Effortless Cleaning: Effortlessly maintain clean windows with an ultra-thin, super-hydrophobic layer that repels dirt, water spots, bugs, and road grime.
Versatile Application: Discover the versatility of this coating, suitable for all glass and mirror surfaces, including car windows, mirrors, glass doors, and more!
Resilient Performance: Experience reliable performance that withstands extreme temperatures, protecting against erosion and staining.
Cost Effective: Achieve professional-grade results without the high costs through convenient at-home application.
How to Use Nano Glass Coating
Step-by-Step Guide for Optimal Protection
Enhance the durability and appearance of your glass windows with Shine Armor Nano Glass Coating. This proven solution provides a protective barrier against erosion, salt spray staining, and mineral deposits. By following these simple steps, you can ensure that your glass windows stay crystal clear rain or shine, even in the least car friendly conditions.
What You'll Need:
Shine Armor Nano Glass Coating: Ensure you have the Nano Glass Coating specifically designed for glass windows.
Microfiber Applicator Pad: Choose a high-quality microfiber applicator pad to evenly distribute the coating on the glass surface.
Clean and Dry Glass: Prepare the glass by cleaning it thoroughly and ensuring it is completely dry. Remove any dirt, grime, or contaminants that may affect the adhesion of the coating.
How to Apply:
Prepare the Glass Surface
Start by cleaning the glass surface using a glass cleaner or a mild soap and water solution. Ensure that the glass is free from any dirt, dust, or residue. Wipe it dry using a clean microfiber cloth.
Apply Nano Glass Coating
Shake the bottle of Shine Armor Nano Glass Coating well to ensure proper mixing of the product. Apply a small amount of the coating onto the microfiber applicator pad. Remember, a little goes a long way.
Spread the Coating
Gently spread the coating onto the glass surface in a back-and-forth motion. Ensure even coverage, making sure to reach all corners and edges. Take your time to achieve a smooth and uniform application.
Let the Coating Cure
Allow the coating to cure for the recommended time mentioned on the product packaging. This curing process allows the coating to bond with the glass surface, forming a protective layer.
Buff for Clarity
Once the coating has cured, use a clean and dry microfiber cloth to gently buff the glass surface. This will remove any excess residue and enhance the clarity of the glass.
Enjoy the Protected Glass
Stand back and admire the protected glass surface. Experience the benefits of Shine Armor Nano Glass Coating as it repels water, resists staining, and maintains a clear and pristine appearance.
With Shine Armor Nano Glass Coating, you can enjoy the benefits of enhanced protection and maintain the clarity of your glass windows. Say goodbye to the hassle of stubborn stains and mineral deposits and embrace the beauty of crystal-clear glass that lasts. Grab yours now!
Here's Why Customers Trust Shine Armor…
| | | |
| --- | --- | --- |
| | Graphene Nano Glass Coating | Our Competitors |
| Protects from Erosion & Mineral Deposits | | |
| 6-12 Months of Protection | | |
| Improve Visibility, Safety & Driving Comfort | | |
| Cost Effective | | |
| Suitable for all Glass and Mirrors | | |
| Scratch-Resistant | | |
A New Generation of Detailing and Cleaning for Your Car​