One

Million+ Satisfied

Customers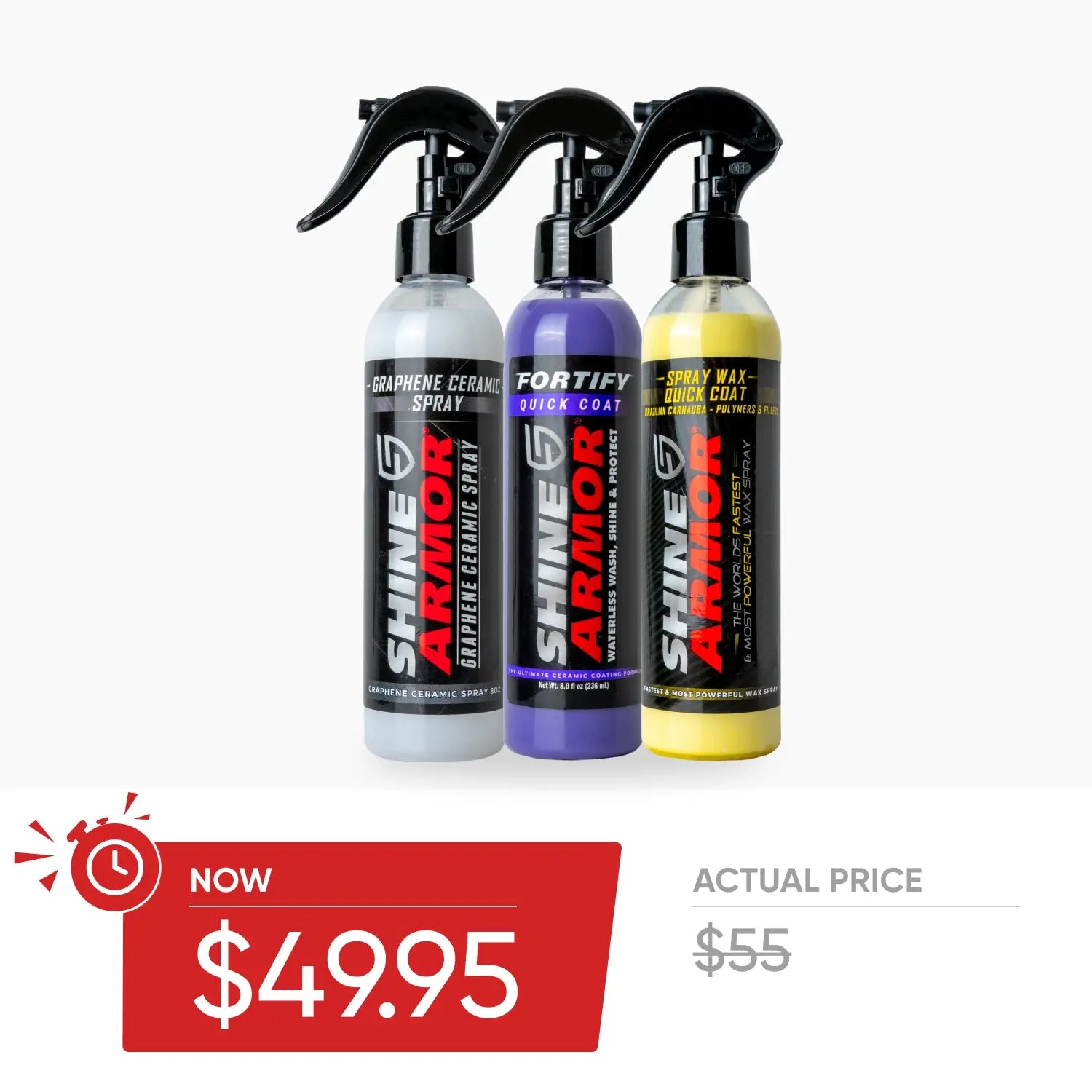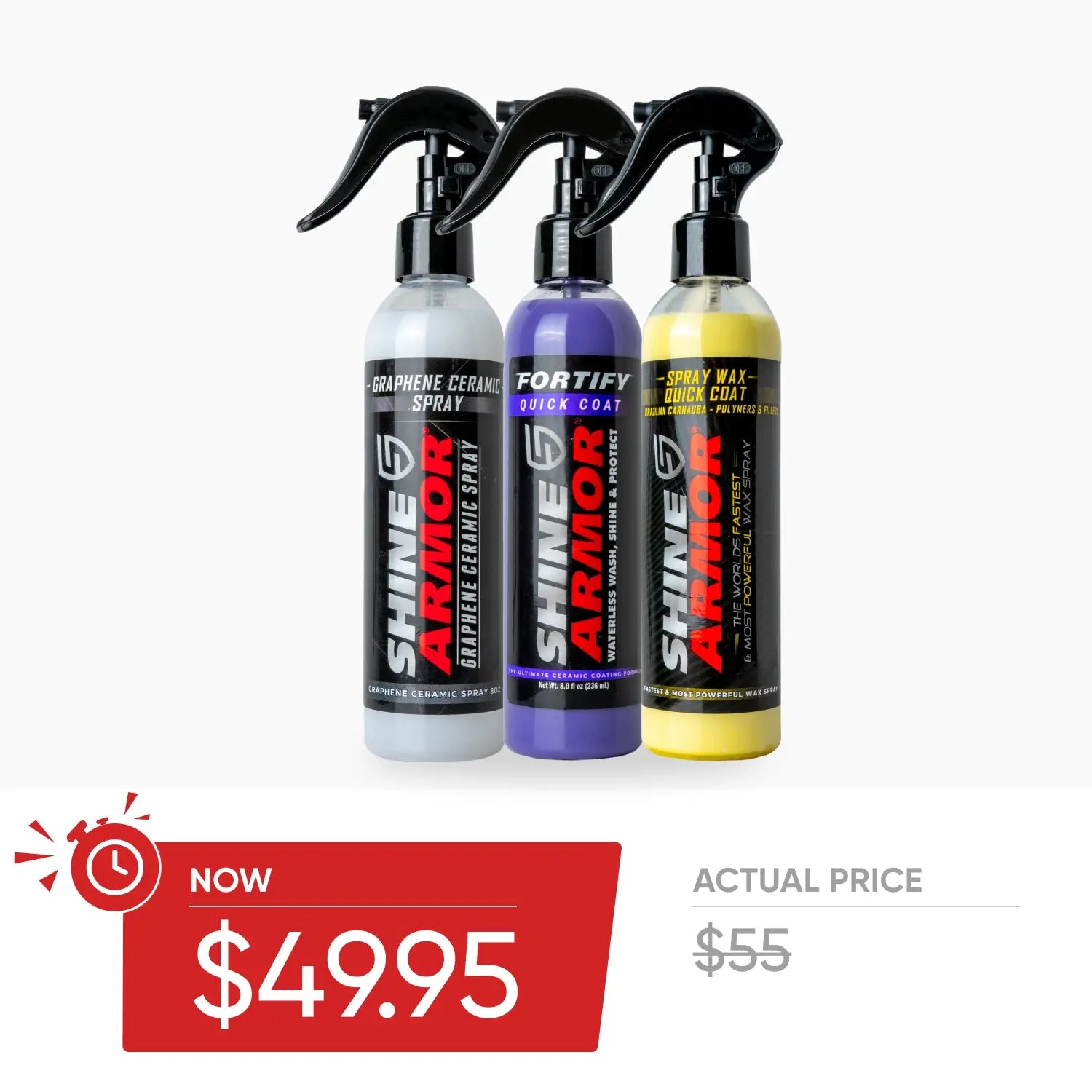 Quantity
USE IT WITH
People also Buy
One

Million+ Satisfied

Customers
Elevate Your Car Care Routine with Shine Armor's Professional Detailing Bundle Kit
Are you ready to transform your car care routine and experience a level of detailing like never before? Introducing Shine Armor's Professional Detailing Bundle Kit – a comprehensive solution that brings together cutting-edge products to enhance both the interior and exterior of your vehicle. Whether you're a car enthusiast or simply want to maintain your car's pristine appearance, this bundle has everything you need to achieve jaw-dropping results.
Product Description:
Shine Armor's Professional Detailing Bundle Kit is the ultimate collection of car care essentials designed to provide your vehicle with the royal treatment it deserves. This all-inclusive bundle consists of three high-performance products that work in harmony to deliver an unmatched shine and protection.
Key Features of  Professional Detailing Bundle Kit
Our Fortify Quick Coat is a game-changer in the world of car detailing. Its advanced formula creates a hydrophobic barrier that repels water, dust, and contaminants, ensuring your vehicle remains cleaner for longer. Achieve a high-gloss finish that not only looks stunning but also makes future cleaning a breeze.
The Best Car Wax in our bundle is crafted with precision to offer unparalleled protection against UV rays, oxidation, and environmental pollutants. This wax goes beyond the surface, delivering a deep and long-lasting shine that enhances your car's overall appearance.
Infused with cutting-edge graphene technology, our Graphene Ceramic Spray sets new standards in ceramic coating. This revolutionary formula creates a shield against scratches, dirt, and harmful elements, while its graphene infusion enhances the depth and clarity of your car's paint.
How to Use Professional Detailing Bundle Kit:
Achieving professional-level results with Shine Armor's Professional Detailing Bundle Kit is easier than you think. Follow these simple steps:
Fortify Quick Coat: 
Begin by ensuring your vehicle's surface is clean and dry. Spray Fortify Quick Coat onto a section of your car's exterior, then use a microfiber cloth to spread and buff the product evenly. Watch as the shine intensifies before your eyes.
Best Car Wax: 
Apply the Best Car Wax to a cool and clean surface. Using a wax applicator pad, spread the wax evenly in circular motions. Allow it to haze, then gently buff it off with a clean microfiber cloth, revealing a dazzling finish.
Shine Armor Graphene Ceramic Spray:
Start with a clean, dry vehicle surface. Spray the Graphene Ceramic Spray evenly onto the surface, then use a microfiber towel to spread and buff the formula. Experience the transformative power of graphene technology.
Benefits:
Complete Care Solution: 
The Professional Detailing Bundle Kit covers every aspect of car care, from exterior protection to interior enhancement, giving you a comprehensive solution in one package.
Ultimate Protection: 
Shield your vehicle from the elements, UV rays, and environmental contaminants with the advanced formulas that ensure long-lasting protection.
Showroom-Worthy Shine:
Achieve a head-turning, high-gloss finish that enhances your car's aesthetics and leaves it looking as good as new.
Easy Application: 
Our user-friendly products make the detailing process a breeze, allowing you to achieve professional results without the hassle.
Elevate Your Car Care Experience Today
Experience the difference that Shine Armor's Professional Detailing Bundle Kit can make for your vehicle. With a commitment to quality and performance, our bundle brings together the best in car care to deliver exceptional results every time you detail your car. Elevate your car's appeal and protect its beauty with the power of Shine Armor.
Revolutionize your car care routine with the Professional Detailing Bundle Kit – your vehicle deserves nothing but the best.