The Shine Armor Nano Glass Coating is the world's best performing and most durable protective aftermarket nano-coating for glass surfaces!
The multifunctional, ultra-thin, super-hydrophobic coating reduces dirt and dust accumulation.
They simply slip off with the motion of the car. The Shine Armor Nano Glass coating creates a scratch-resistant, easy to clean surface.
Shine Armor Nano Glass coating protects the glass from erosion, and from stubborn salt spray staining and mineral deposits.
This is a proven and reliable coating that can handle harsh conditions and extreme temperatures.
Day and nighttime visibility are greatly improved by enhancing the clarity of the glass. This is an important safety feature for the safety couscous.

✅3-5 Full Car Windows
💪3 Years Of Protection
💲Money Back Guarantee
🇺🇸USA Made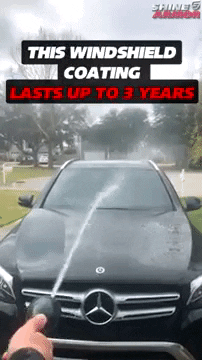 We are the world's leading home detailing company. For years it has been such a big and costly process to simply clean your car at home with absolute quality. Going to a detailing shop for a premium service can run upwards of $10,000 or more. That is why we created a lab tested formula to quickly, powerfully, and affordably clean, shine, and protect your vehicle or any surface! We are proud to say that Shine Armor offers a 100% back money guarantee if you are not satisfied. We want to thank all of our customers and fans, who have single-handily made Shine Armor the Global Leader in home detailing products!
MISSION:
Shine Armor was created by a group of guys who are absolutely auto obsessed. You know, the kind of obsessed where your jaw drops every time you see a sick whip, and you have to stop and take a picture of it… Yep, that's us! We're just like you and felt as though there were no detailing products that were made for simpletons like us who simply wanted to have incredible looking rides without breaking the bank!

And thus, Shine Armor was created! As I mentioned, Shine Armor was created first and foremost with the automotive enthusiast in mind. Automobiles depreciate the second you drive them off of the lot, and poor maintenance of your vehicle makes them depreciate even faster. The problem is that, not everyone has the time, money, and/or resources to keep up with their vehicle's maintenance. This is where we found our calling to serve the automotive enthusiast community. We found that not only was everyone product on the market expensive, but that these products were also poor quality, and difficult to apply.

Since starting Shine Armor, it has been our mission to provide the highest quality products at the most affordable prices, so that we can give back to the automotive enthusiast community. We are creating a movement that serves the automotive enthusiasts through USA made, high-end, and easy to use detailing products!