One

Million+ Satisfied

Customers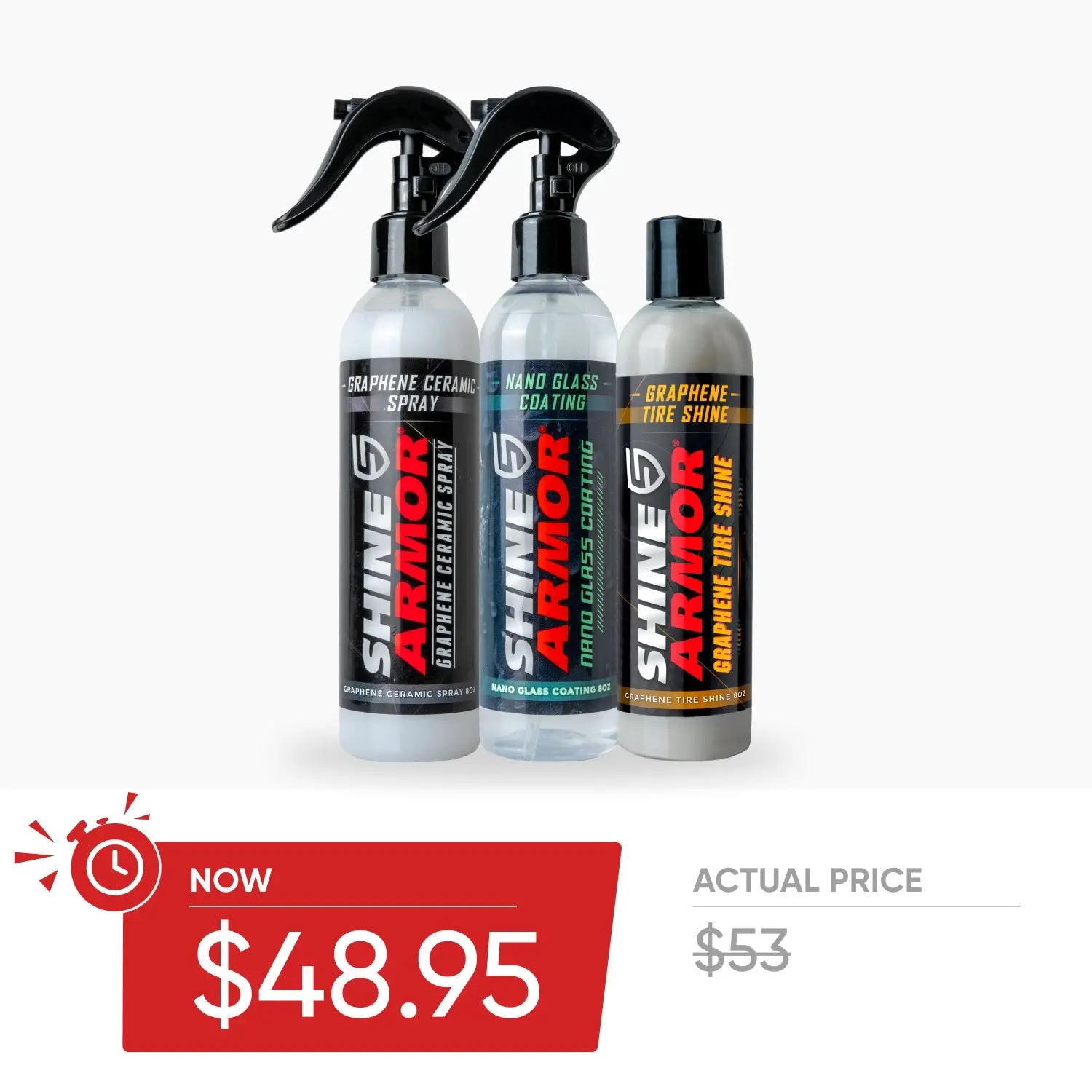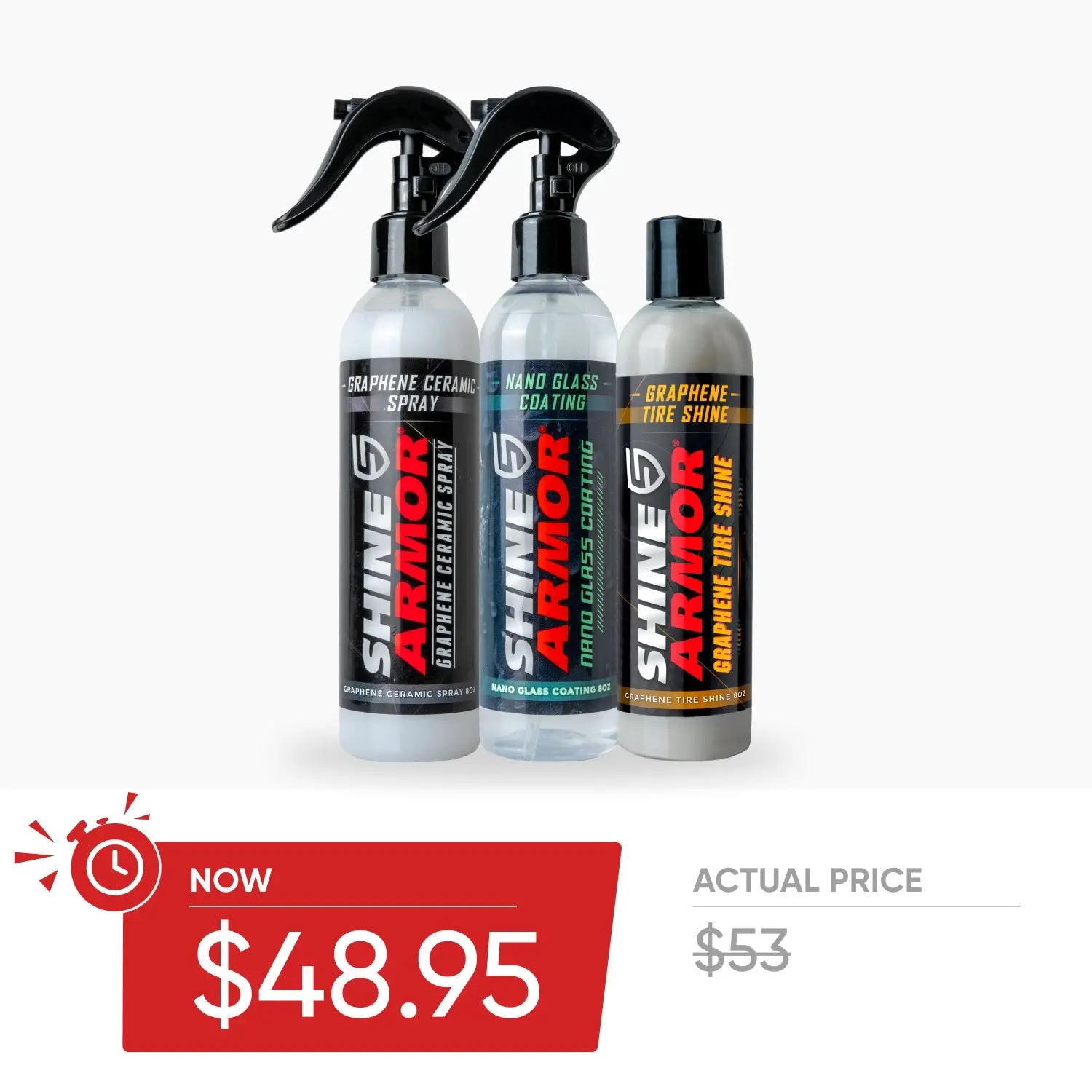 Quantity
USE IT WITH
People also Buy
One

Million+ Satisfied

Customers
Shine Armor Graphene Power Bundle Kit: Elevate Your Car Detailing Experience
Experience the next level of car detailing with the Shine Armor Graphene Power Bundle Kit. Designed to provide exceptional care for both your car's interior and  car exterior, this comprehensive bundle is a car enthusiast's dream come true. Elevate your car's shine, protection, and overall appearance with the power of graphene technology. Whether you're a detailing pro or a beginner, this kit has everything you need to achieve stunning results.
Product Description: 
The Shine Armor Graphene Power Bundle Kit combines cutting-edge technology with user-friendly solutions. From enhancing your car's glossy finish to protecting it against environmental elements, this bundle is your go-to choice for ultimate car care. With an array of features, benefits, and easy-to-follow instructions, your car will be turning heads wherever you go.
Key Features of  Graphene Power Bundle Kit
:
Graphene-Ceramic Spray:
The Shine Armor Graphene-Ceramic Spray harnesses the power of graphene to create a superhydrophobic barrier that repels water and contaminants. This helps to prevent water spots, bird droppings, and UV damage, all while enhancing the depth and clarity of your car's paint.
Graphene-Ceramic Nano Glass Coating:
 Give your car's windows and glass surfaces unmatched protection and clarity. This nano glass coating provides an invisible shield against dirt, water, and scratches, ensuring a crystal-clear view even in challenging driving conditions.
Graphene Tire Shine:
 Your tires deserve special attention too. The Graphene Tire Shine not only adds a deep, glossy finish to your tires but also forms a protective layer that guards against fading, cracking, and road grime buildup.
How to Use Graphene Power Bundle Kit
:
Ensure your car's surface is clean and dry.

Shake the bottle well before use.

Spray the product onto a microfiber cloth or directly onto the surface.

Spread the product evenly, working in small sections.

Buff the area with a clean, dry microfiber cloth for a dazzling shine.
Clean your car's glass surfaces thoroughly.

Apply a few drops of the product onto an applicator pad.

Spread the coating evenly over the glass.

Allow the product to haze for a few minutes.

Buff the glass with a clean, dry microfiber cloth until it's clear and streak-free.
Ensure your tires are clean and dry.

Shake the bottle well.

Spray the product directly onto the tire sidewall.

Allow the product to penetrate for a few minutes.

If desired, use a tire brush to achieve an even shine.

Wipe off any excess product with a clean cloth.
Benefits of Graphene Power Bundle Kit
:
Enhanced Protection:

Graphene technology forms a protective layer on your car's surfaces, guarding against environmental damage, UV rays, and contaminants.

Stunning Shine: Experience an unparalleled glossy finish that enhances your car's aesthetic appeal.

Easy Maintenance:

The hydrophobic properties of the products make washing and cleaning a breeze, reducing the need for frequent detailing.

Long-Lasting Results:

The durable formulations ensure that your car remains protected and radiant for an extended period.

Versatile Use: Suitable for both interior and exterior surfaces, this bundle offers all-around care for your vehicle.

Quality Assurance:

Shine Armor is a trusted brand known for its commitment to producing high-quality car care products.
Your Complete Car Care Solution:
 The Shine Armor Graphene Power Bundle car Kit is a testament to the brand's dedication to innovation and excellence. By combining the power of graphene with user-friendly application, this kit delivers professional-level results without the complexity. Whether you're preparing for a car show or simply want your car to look its best every day, this bundle has you covered from every angle. Elevate your car detailing routine and experience the difference that graphene technology can make.
Invest in your car's appearance and protection today with the Shine Armor Graphene Power Bundle Kit. Elevate your car detailing game and enjoy the thrill of driving a well-maintained, head-turning vehicle that shines both inside and out.