One

Million+ Satisfied

Customers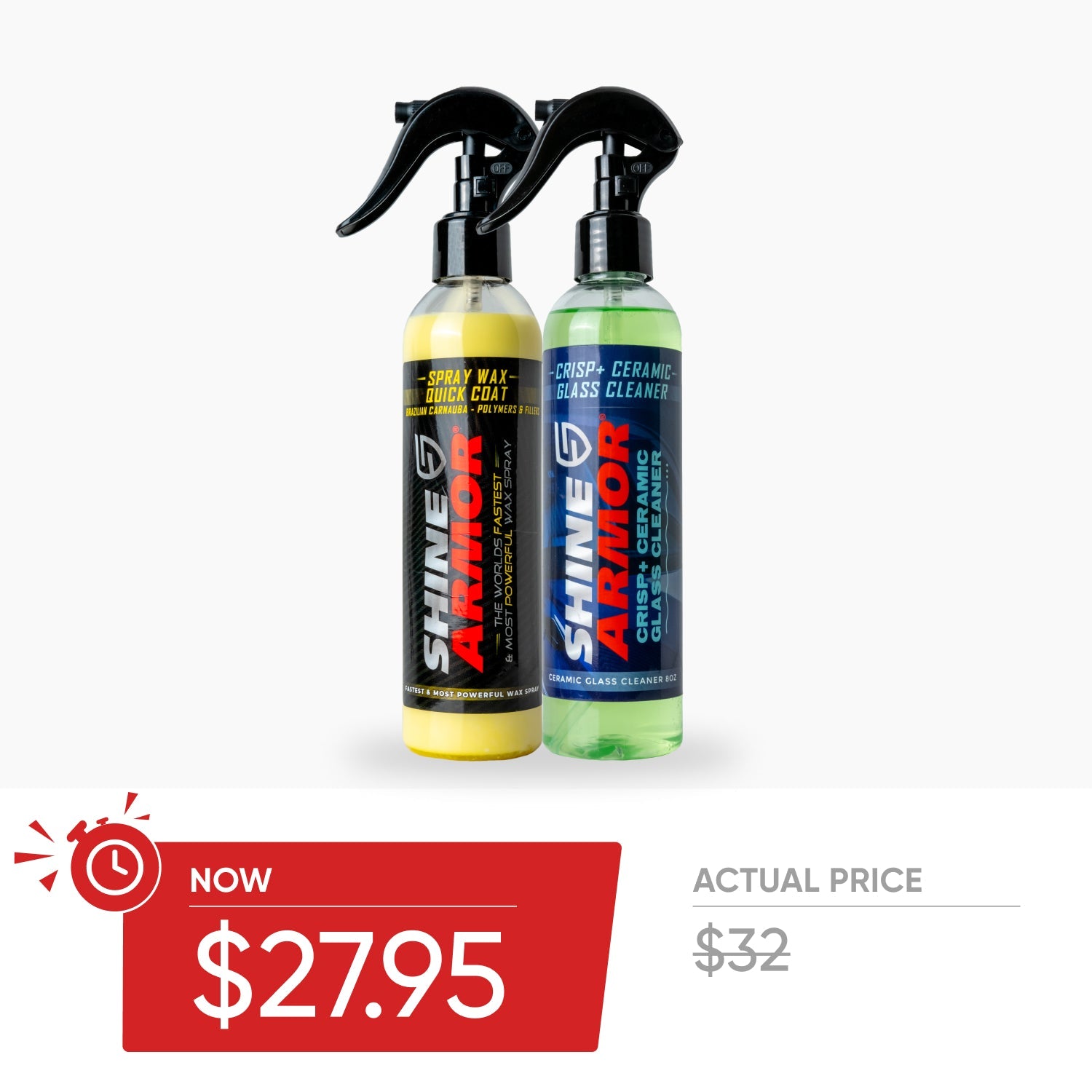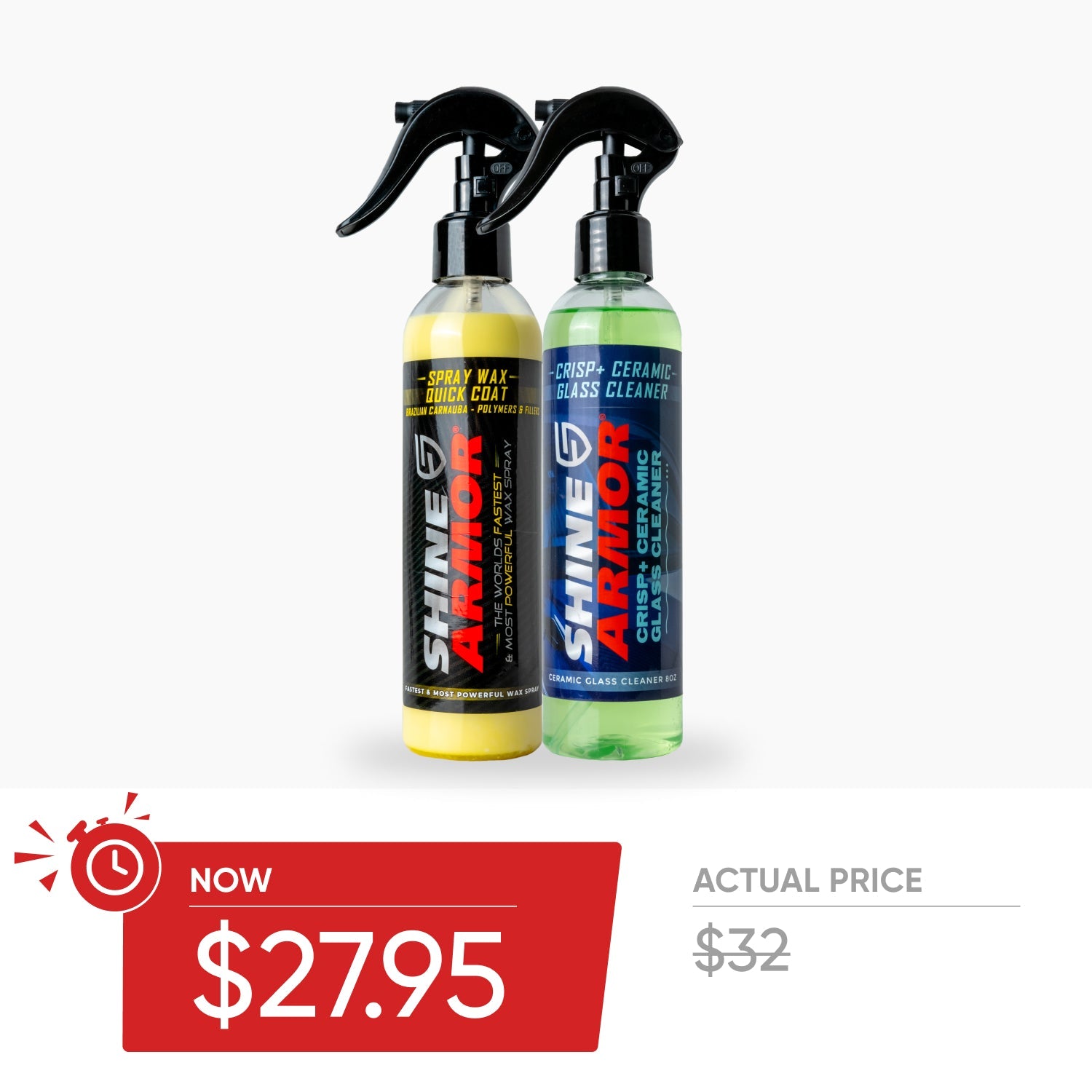 Quantity
USE IT WITH
People also Buy
One

Million+ Satisfied

Customers
Crisp Spray Wax & Coating Bundle Kit
Product Description:
The Crisp Spray Wax & Coating Bundle Kit from Shine Armor is the ultimate solution for car enthusiasts who demand perfection in their vehicle's appearance. This kit brings together the power of two exceptional products – the Best Car Wax and the Crisp Ceramic Glass Cleaner – to provide an all-in-one solution for both  car exterior and interior car detailing. Designed with precision and crafted with care, this bundle is your go-to choice for achieving a stunningly clean and glossy finish that lasts.
Key Features of Crisp Spray Wax & Coating Bundle Kit
This professional-grade car wax is formulated to enhance and protect your car's exterior. Its advanced formula creates a hydrophobic barrier that repels water, dirt, and contaminants, keeping your car cleaner for longer. The wax provides UV protection, preventing fading and oxidation caused by sun exposure.
Crisp Ceramic Glass Cleaner:
The Crisp Ceramic Glass Cleaner is specially designed to provide streak-free clarity to your car's glass surfaces. Its powerful formula cuts through tough grime, fingerprints, and smudges, leaving your windows crystal clear for improved visibility.

How to Use:
Best Car Wax:
Ensure your car's surface is clean and dry.

Apply a small amount of wax onto a microfiber applicator pad.

Work the wax into the paint using circular motions.

Allow the wax to dry to a haze.

Buff off the haze using a clean, dry microfiber towel for a brilliant shine.
Crisp Ceramic Glass Cleaner:
Shake the bottle well before use.

Spray the cleaner directly onto the glass surface.

Use a clean microfiber cloth to wipe the surface in a circular motion.

For stubborn dirt, allow the cleaner to sit for a few moments before wiping.
Benefits of Crisp Spray Wax & Coating Bundle Kit
Achieve a showroom-worthy shine with ease.
Protect your car's paint from environmental damage.
Keep glass surfaces clear for improved visibility and safety.
Enjoy a streak-free finish that enhances your car's appearance.
Extend the lifespan of your car's exterior with UV protection.
Bundle Kit Includes:
Best Car Wax:
Experience the brilliance of a hydrophobic shield that repels dirt, water, and contaminants. Preserve your car's stunning finish while enhancing its shine.
Crisp Ceramic Glass Cleaner:
Achieve crystal-clear windows and mirrors with this powerful cleaner. Say goodbye to streaks and smudges for improved visibility on the road.

Elevate your car detailing routine with the Crisp Spray Wax & Coating Bundle Kit from Shine Armor. Whether you're passionate about maintaining a spotless exterior or ensuring clear visibility on the road, this bundle has you covered. Unlock the secret to a head-turning shine that lasts and protect your investment in style.